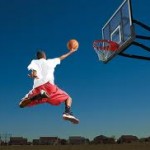 I woke up this morning about 2am with a strange thought. I can't remember the last time I played basketball. Now at my age there are a lot of things I can't remember like where are my car keys, who am I supposed to see today, and how did I get those purple stains on my big toe. But this is different. I loved basketball.
I played for the first time in the 6th grade. I went to school in the deep-south and way back then it was football country, maybe a little baseball here and there but mainly football. Then we went to Kentucky and I discovered basketball. A lifelong love affair was born. I was obsessed with it. I played on every playground and in any driveway with a hoop that I could find. I played with neighborhood kids, by myself, against imaginary teams. I played all of the time. I simply loved the game.
The graceful arc of the fade away jumper, the precision of the cross-over dribble, in later years the deception of the behind the back pass, and the power of the slam dunk. (Well, I never actually experienced that one personally except when Josh was 4 and I schooled him on his Tyco plastic basketball set.) But I digress.
I loved basketball and thought I would play it forever. Even after high school and college I always found a local pick-up game and got to know the players in town. The very first night we moved in to a little town in Ohio, with unpacked boxes still setting in the middle of our tiny apartment, I went with Bill Bradley (not that Bill Bradley), Pete Ollis, and Denny Osenga and played basketball. In our first church I joined the YMCA and was a regular at the Tuesday and Thursday lunchtime games. And when Josh and Jacob came along, supper was always late because of the evening games in our driveway.
In my 40's I could still play. In my 50's I would surprise a few young bucks with a quick step to the basket and a pretty fair 3 point shot. And then one day I stopped playing. Didn't plan to. Don't really even know when it was. I just know that one time a long time ago I played my last game of basketball. Still did softball for a while. Golf was kind of fun. I love tennis now. But basketball, I just quit. And this morning I woke up thinking, "I can't remember the last time I played."
Aren't you glad you tuned in to my blog today so that you could learn that valuable lesson? Well, maybe there are some important life lessons for us in that whether you are still basketball age or a little closer to shuffleboard.
First, everything winds down. All of those things that you think are so important, that stuff that you are worrying and whining about so much right now, will one day be a distant memory. Got to get the bedroom color just right. Nothing is going to interfere with my hunting trip. There's a scratch on my car. Someday that stuff will not even be an issue and when you do think about it you'll wonder why you gave it so much energy.
Second, the longer things last the more important they are. Maybe I should reverse that. The really important things will last forever. Basketball, not a big deal now. Walks with my wife, a loving relationship with my kids, quiet time with Jesus, those are the things that are still here and those are the things that matter.
Lesson number three, God will give you other things. If you know me you know that tennis is my new obsession now. But there are better things. I get all the exercise I can stand wrestling with my grandkids. I love the team spirit of the counselors and staff that I work with, and no basketball win can match the victory of seeing a marriage restored after months of prayer and care.
Which leads me to the last lesson, life gets only better if we allow it to. Do I miss strapping on my Chuck Taylors and mixing it up with the young guys? Well, yes. But that's not who I am anymore and that's not where God has me. I can fuss and fret over the things I have lost, over what I can no longer do, or I can wake up every morning excited to see the new adventure that God has before me today. Even if it is just to speak a word of encouragement to the young guy that changes my oil or share a scripture with a hurting friend on FaceBook. I am still useful to God so I'm still in the game.
Maybe some things have passed you by. Perhaps you've made choices that have put you on the sidelines. (Been there!) But life is not over just because you have a few doors closed. If you're breathing you have a place in the Kingdom. So get out the liniment. Find your old sneakers. Go out today and find a pick-up game that needs you. It doesn't get any better than this. We are still in the game!